5 of the Cutest Representations of Tenjin in Tokyo. Travel writer and Shrine Enthusiast Ayaha Yaguchi Chooses.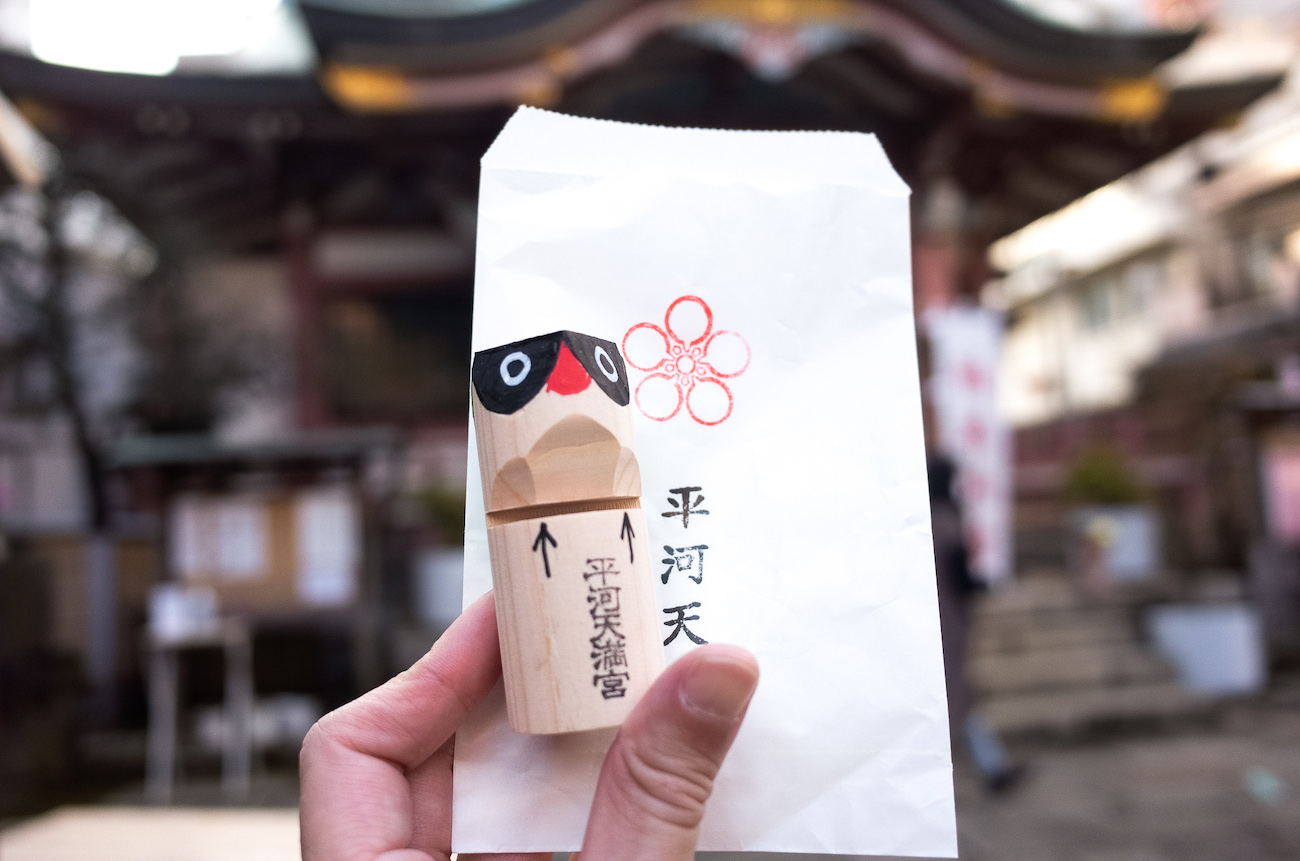 Miki
Trip Planner Japan's Webmaster. love solo travel, photography, history, nature,…
Writer Ayaha Yaguchi loves Shinto shrines and covers various locations around Japan. In this article, she provides inspiration for a stroll around Tokyo visiting shrines dedicated to Tenjin, the Shinto god of learning, with a focus on shrines offering cute charms!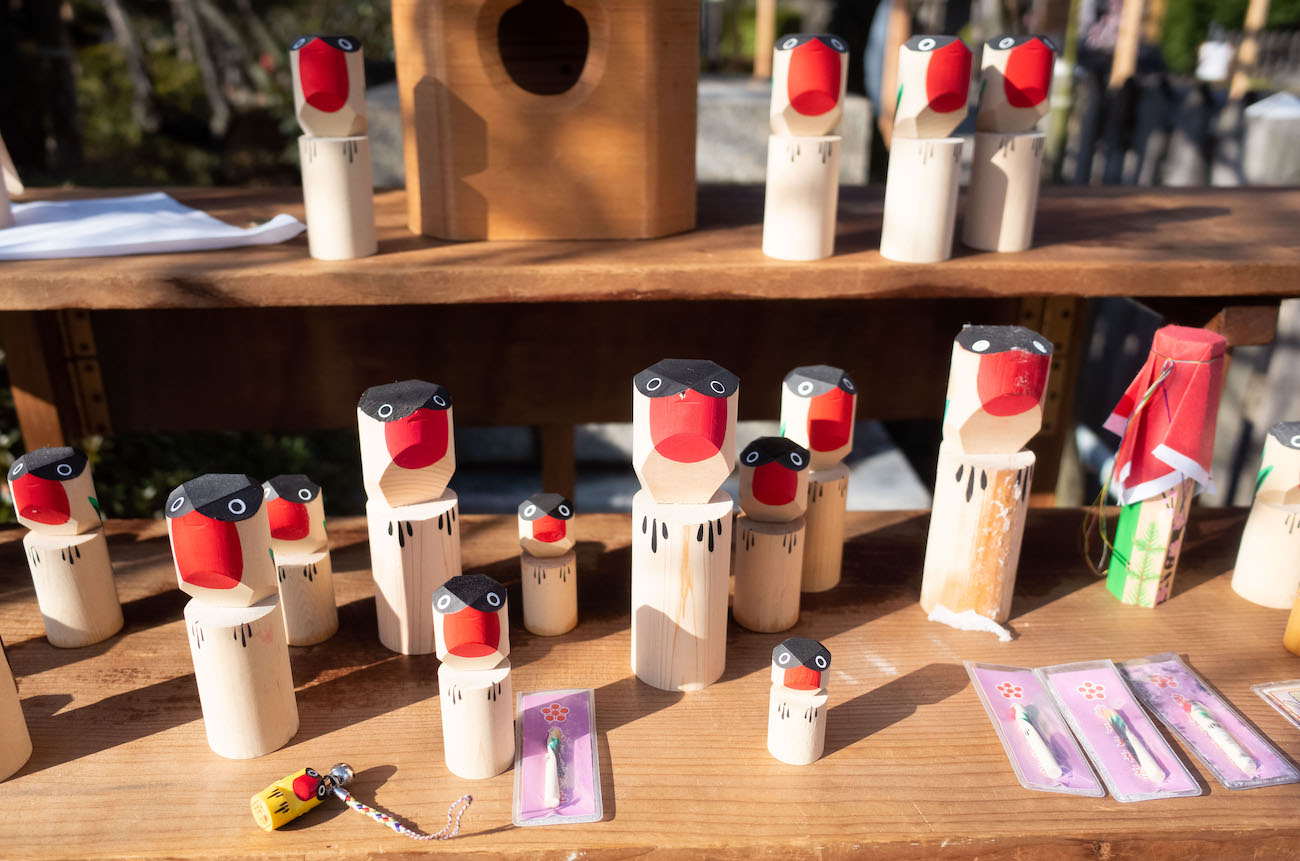 5 of the cutest representations of Tenjin in Tokyo
It's been 7 years since I started visiting shrines during the "Goshuin boom" (when tourists flocked to shrines and temples to collect each institution's unique commemorative stamp).
From Inari shrines to Hachiman shrines, Yasaka shrines and Hikawa shrines, there are many shrines with the same name throughout the country, but I believe the easiest to understand and wander are the Tenjin shrines.
Shrines with names like Tenjin, Tenmangu, and Kitano are all within the same category of "Tenjin shrines." Kitano Tenmangu Shrine in Kyoto and Daizaifu Tenmangu Shrine in Fukuoka are especially famous.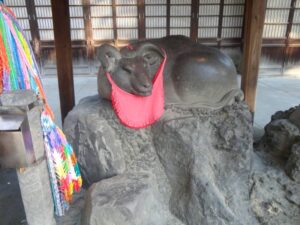 These shrines are dedicated to Sugawara no Michizane, the god of learning, whose symbols include plum trees, bronze statues called "rubbing cows" that visitors rub for health and good luck, and sweets sold in front of the shrine gate.
In older areas of town where Tenjin shrines are located, there are often shops selling famous sweets like umegae mochi (a sweet grilled dumpling filled with red bean paste) and tenjin kashi (sweets made of sugar and molded into auspicious shapes, such as plum blossoms or Sugawara no Michizane himself), so memories of visits to a Tenjin shrine are often paired with those of sweet treats.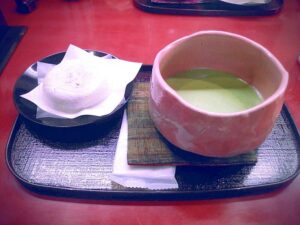 In addition, those who are familiar with Tenjin know of the shrines' "hidden mascot."
On January 25th every year, a day known as "the first Tenjin day of the year," a ritual called "Usokae*" is held at Tenjin shrines nationwide. During this ritual, the shrines sell wooden carvings of bullfinches. Some shrines sell out of these carvings in the blink of an eye, so I feel lucky whenever I encounter these bullfinches.
* A Shinto ritual that ousts bad luck and invites good luck through the exchange of wooden bullfinch figurines. The Japanese word for "bullfinch" is uso, which is also the word for "lie." The word tori means both "bird" and "take." Therefore, by exchanging bullfinches, one transforms the misfortunes of the previous year into "lies" and "takes" good fortune in exchange.
Without further ado, I'll introduce my five recommended Tenjin shrines in Tokyo. Since I just introduced the notion of the first Tenjin day of the year, I'll talk about some shrines that are very popular during this time and what their bullfinch figurines are like.
---
Kitano is to Kyoto as Kameido is to Tokyo!
Kameido Tenjin Shrine
When discussing Tenjin shrines in Tokyo, one cannot leave out this shrine.
The moment you pass through the large torii gate and climb the moon bridge, you will see the wisteria trellis and majestic shrine before you, and the Tokyo Sky Tree on your left. Right away you will see views that will make you glad that you came.
The shrine grounds are spacious, and it's fun to visit not only the Tenjin shrine, but also the Benzaiten, Utaki, and Hanazono shrines that are also on the premises.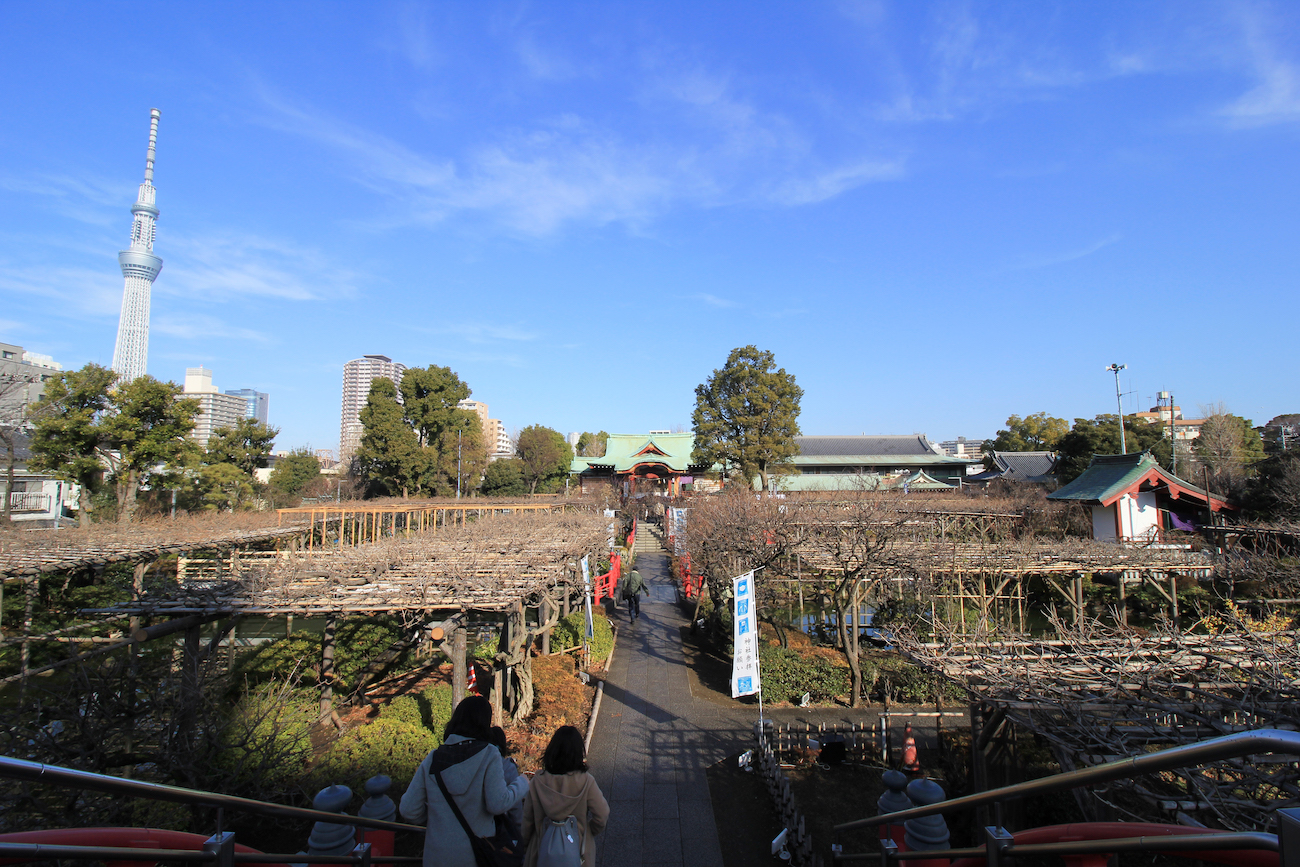 By the way, at Kameido Tenjin, the names of the plum tree varieties are hung on each trunk. There are numerous varieties of plum tree, and they are like an idol group; when the trees start to bloom, it's fun to look for the variety that you like best.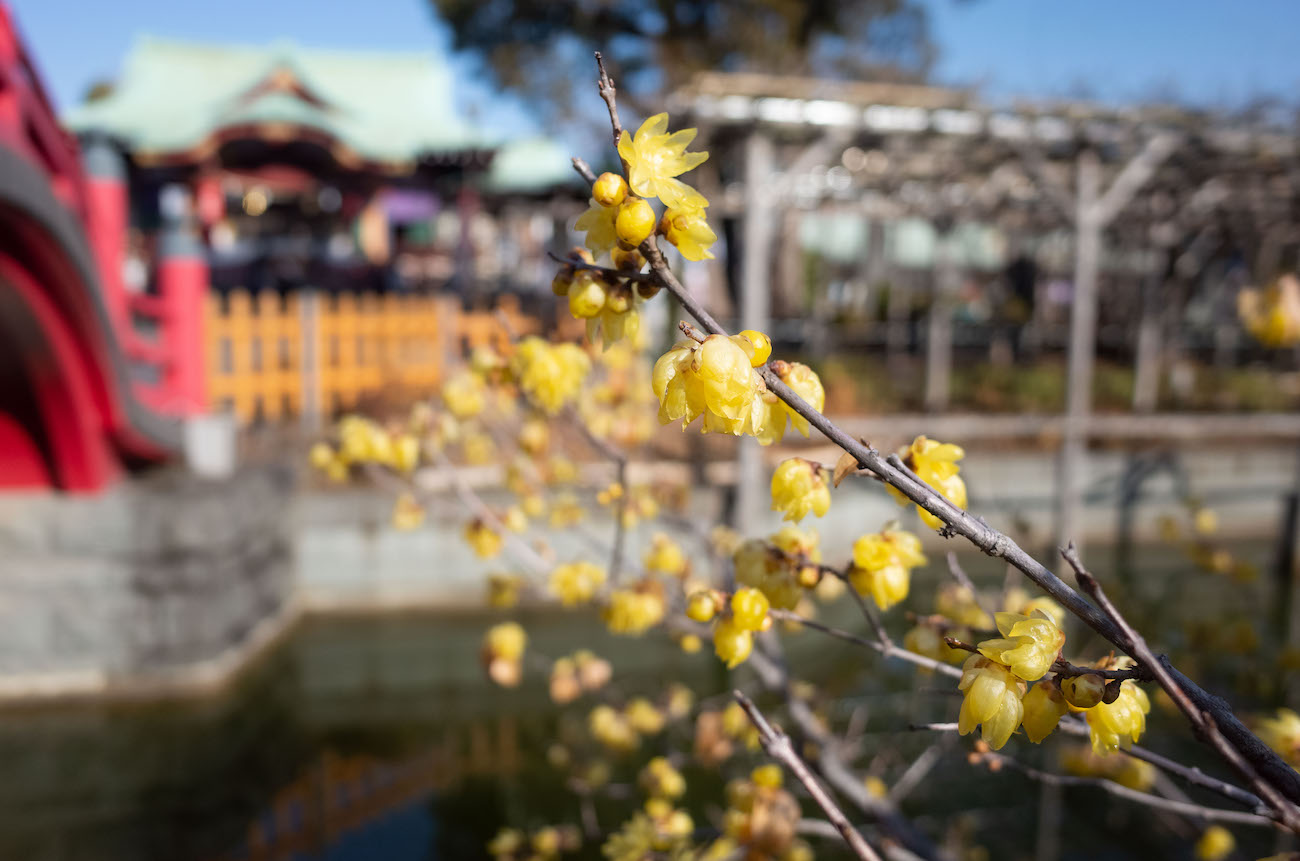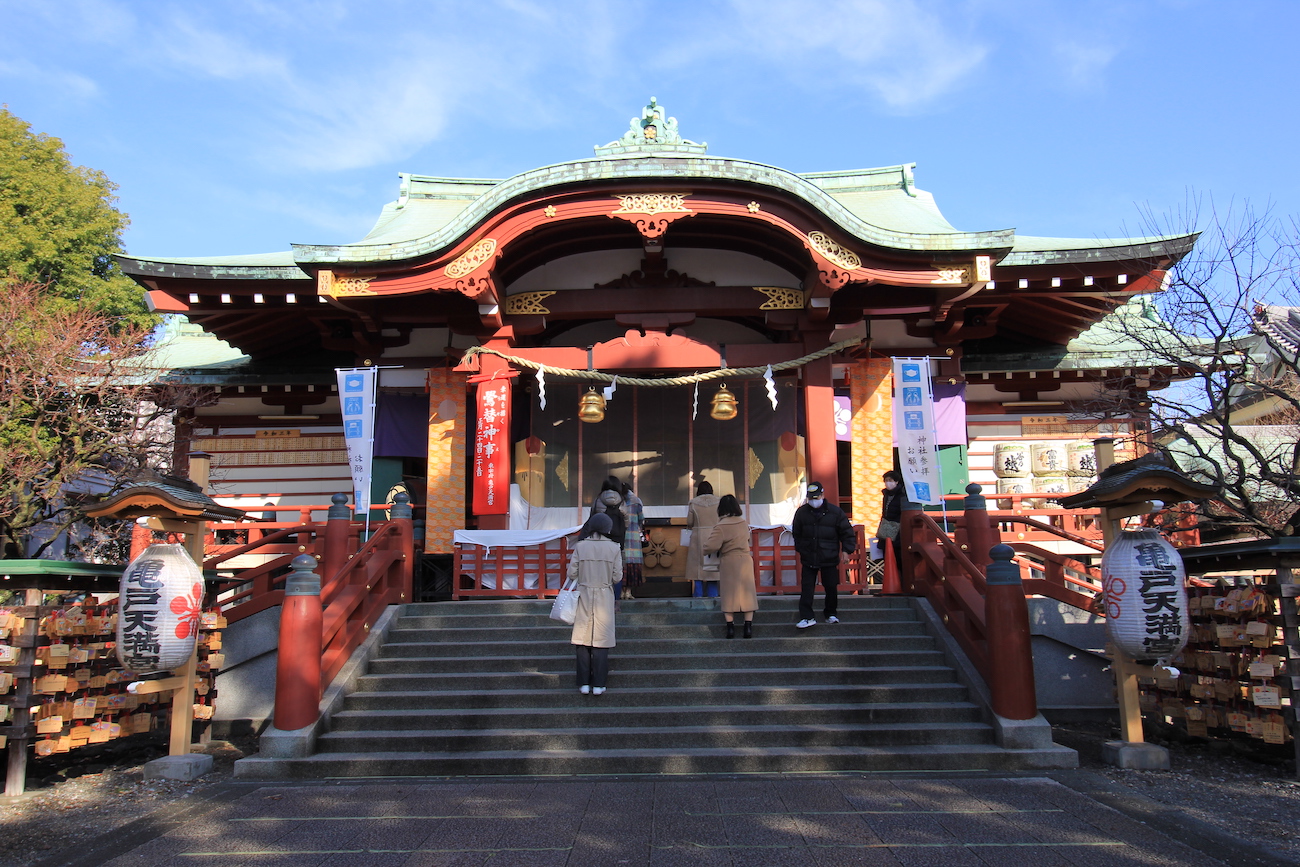 On your way home, be sure to stop by the historic confectionary Funabashiya and try the famous kuzumochi.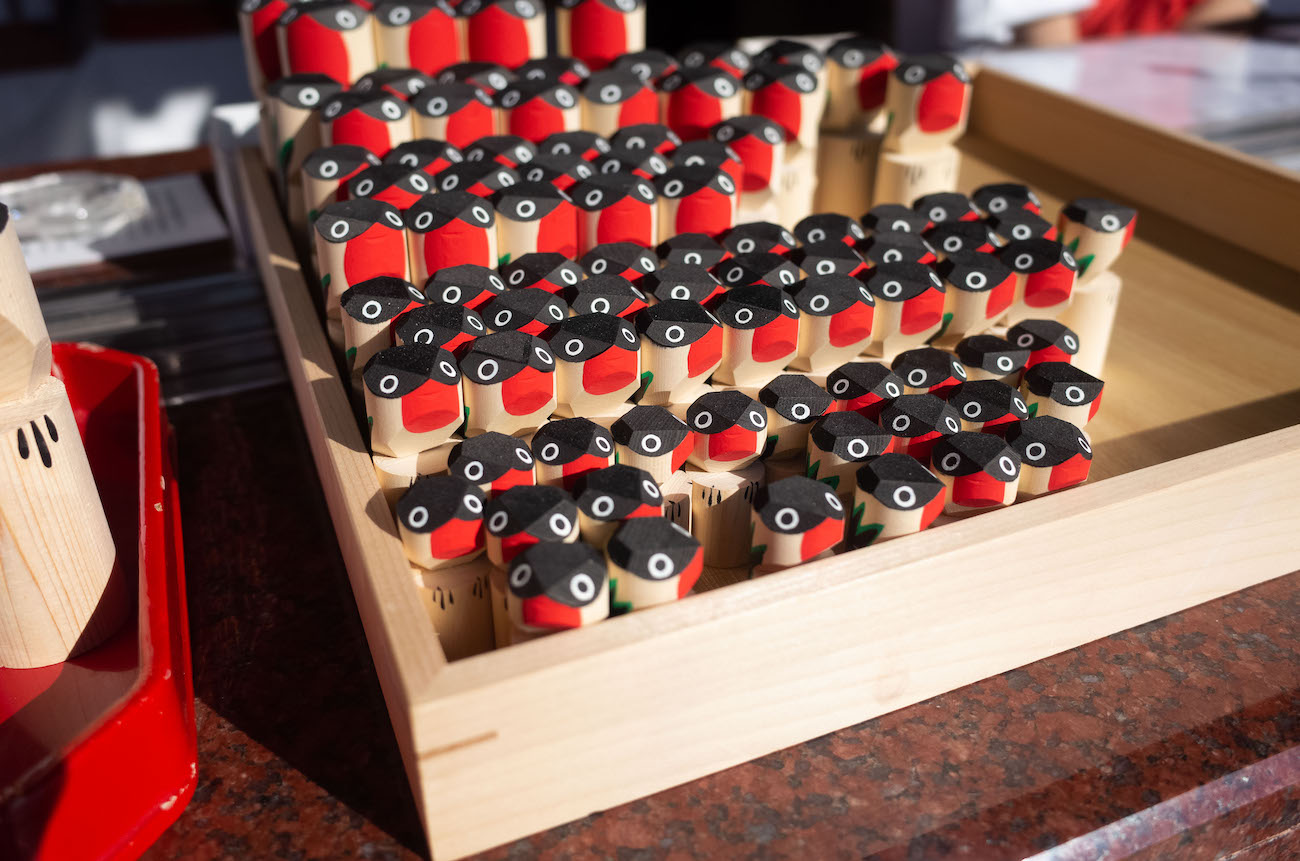 Kameido Tenjin's bullfinches are small and cute little figurines. There are seven different sizes, and you can get a small one for 600 yen. They're the kind of charms that you'll find yourself buying a lot of as souvenirs for your loved ones.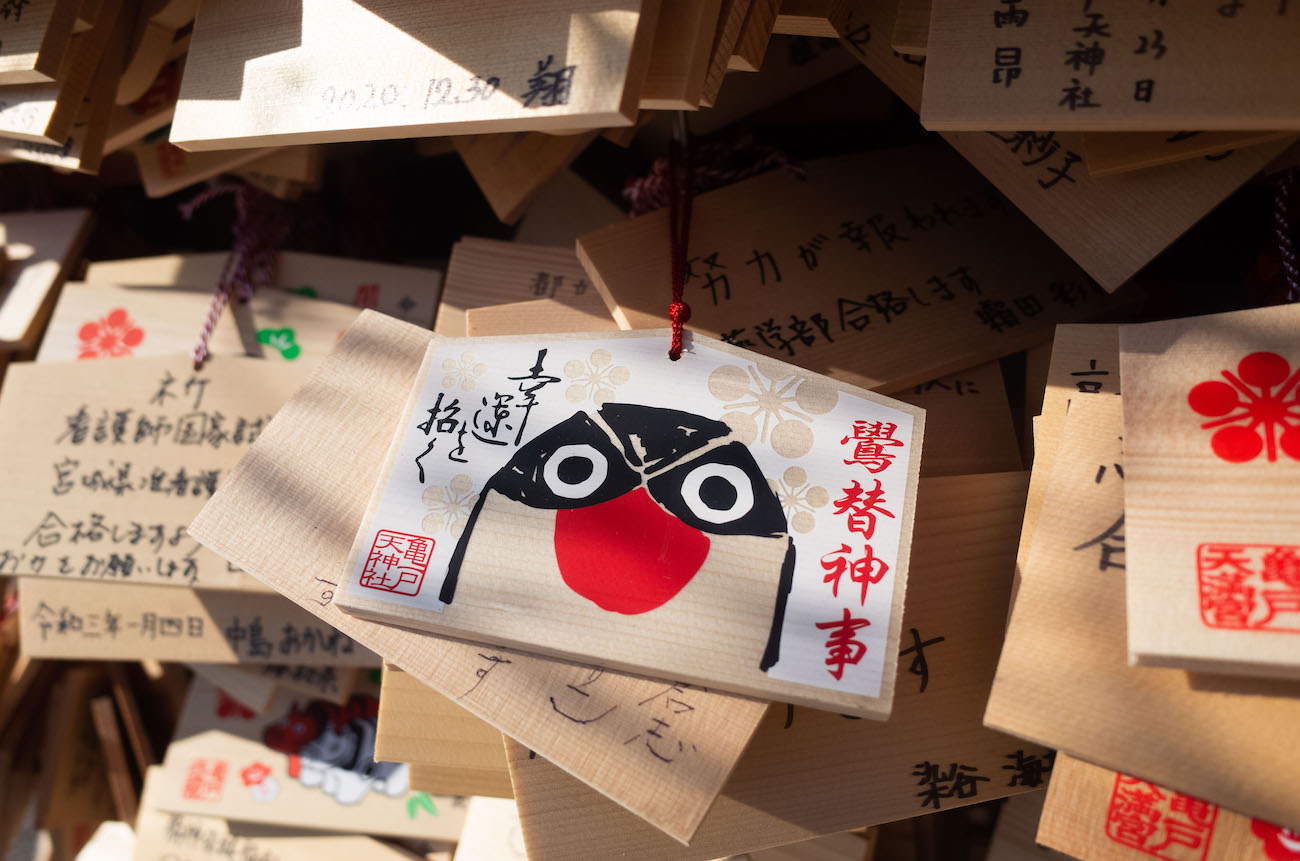 ---
If a 3D miniature were made, it would definitely be popular!
Gojoten Shrine
This is a shrine nestled on the banks of Shinobazu Pond in Ueno. It was founded 1,900 years ago.

The legendary prince Yamato Takeru no Mikoto is said to have been the first to worship here when he passed through Ueno on his way to subdue rebels living in Japan's eastern provinces. Yamato Takeru offered gratitude for a blessing from the god of medicine, and therefore the shrine is said to have the power to heal illness.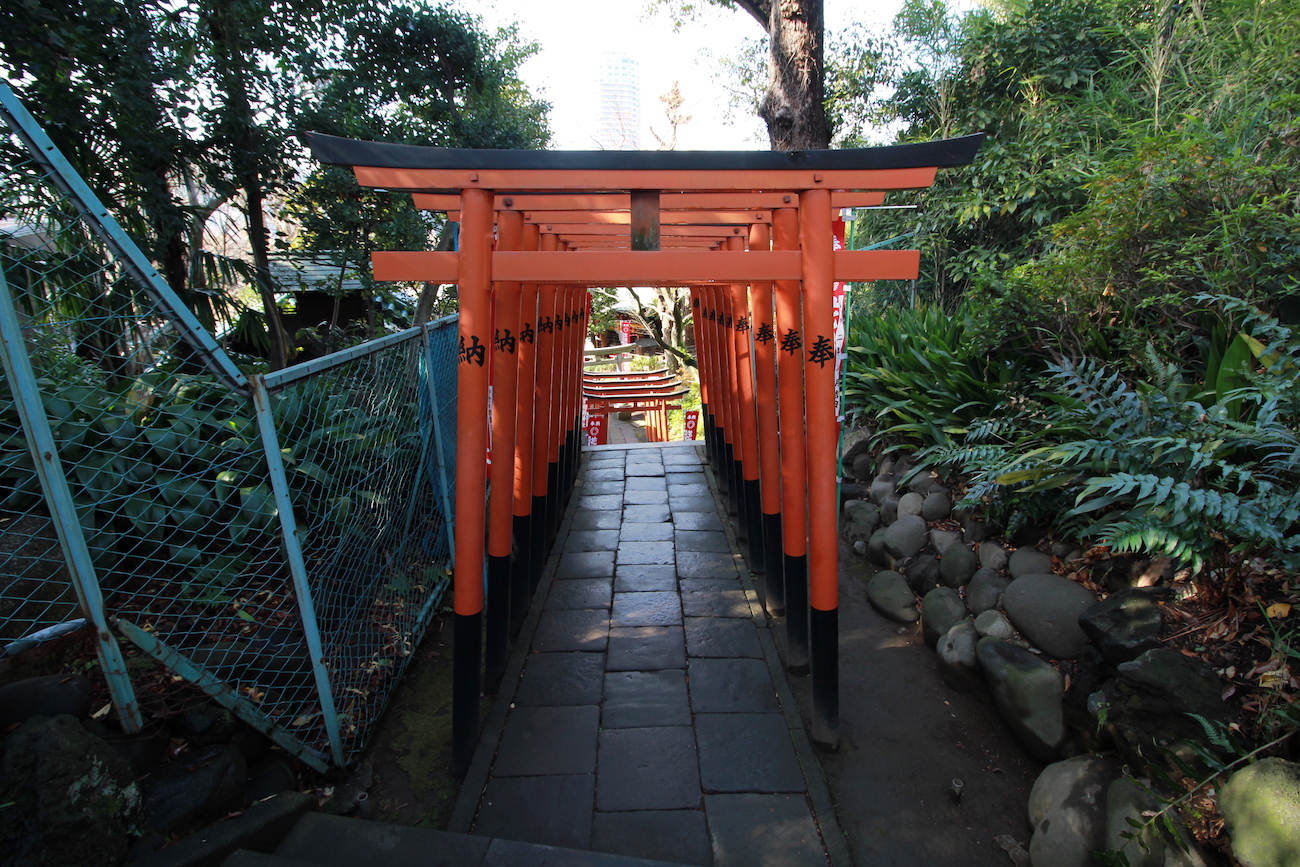 The highlight of the shrine are its grounds, which would be interesting as a 3D-printed miniature. The spacious and bright Gojoten Shrine and the small and mysterious Hanazono Inari Shrine are almost stacked on top of one another like bunk beds.

Gojoten and Hanazono Inari are connected by stairs, and part of the shrine's appeal is the ability to climb up and down and cross back and forth between the two spaces, which have a totally different feel from one another.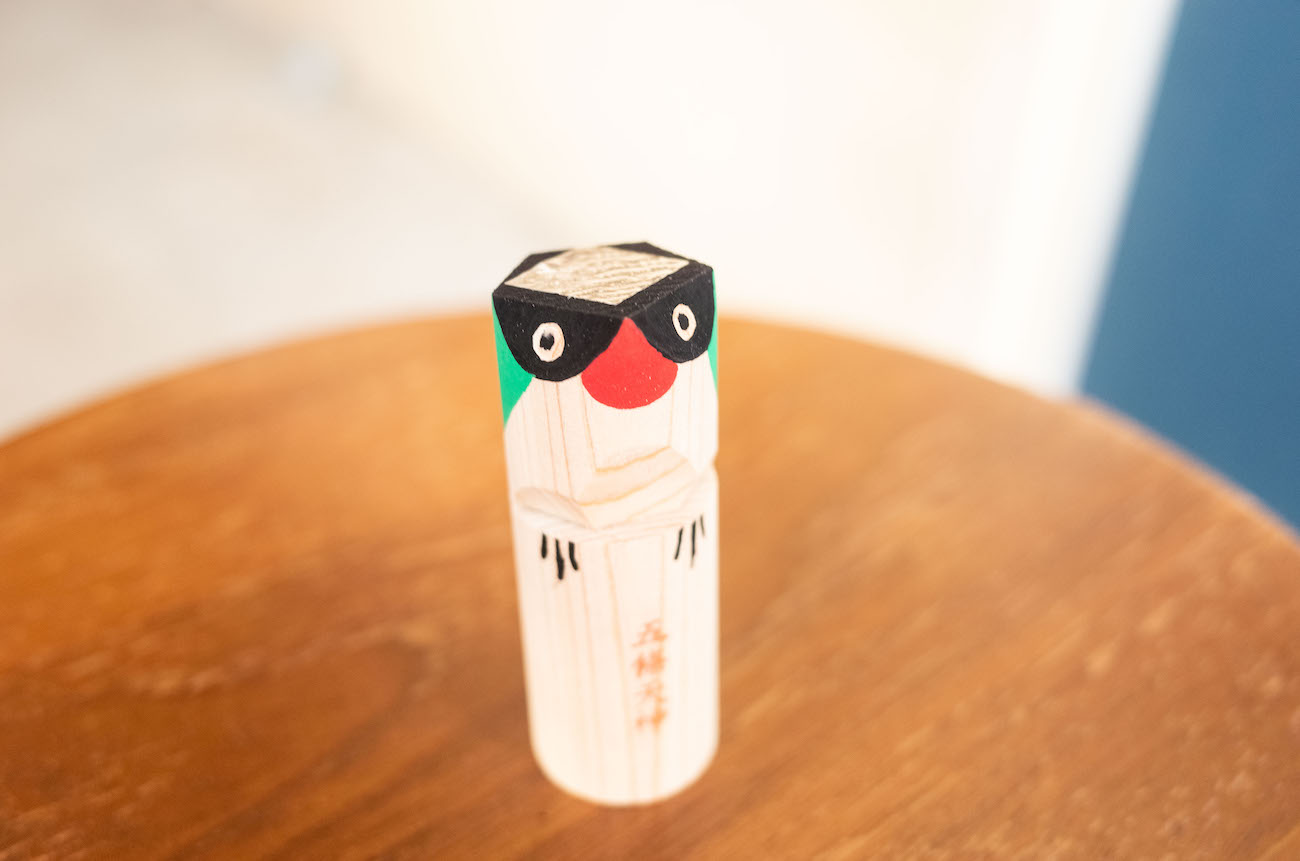 The bullfinch carvings sold at Gojoten Shrine are concealed inside envelopes, so you just have to go for it and pick one. Most of them have silver paper decorating their heads, but a few of them have gold paper decorations.
I like this playfulness from a shrine that otherwise seems very serious.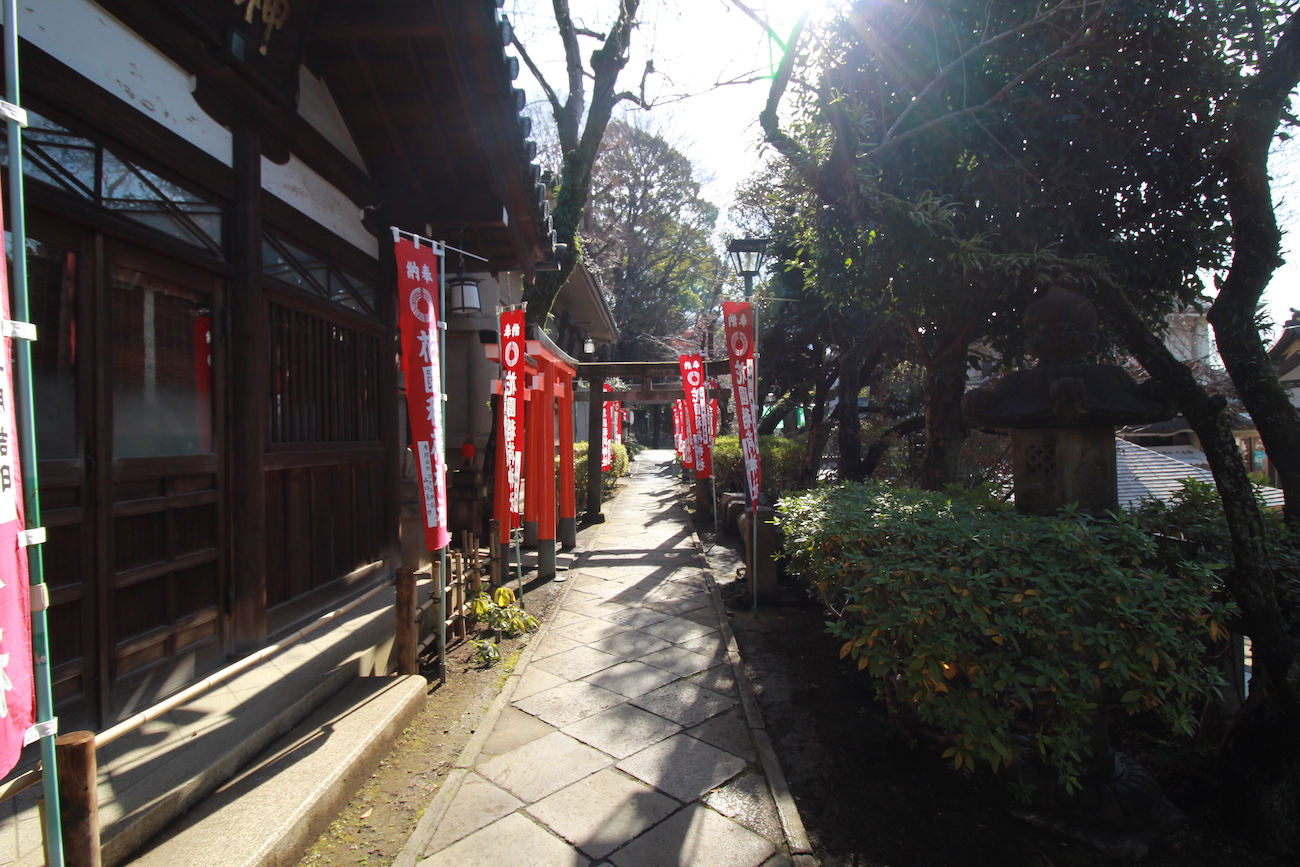 ---
Get lost in photogenic Edo
Yujima Tenjin Shrine
This is a shrine that makes you wonder whether time and space have twisted back on themselves. Although unmistakably located in the current Reiwa Era, this is a mysterious place where you can catch glimpses of the dashing men and women of the Edo Period among the scenery, as through thin curtains of time have overlapped.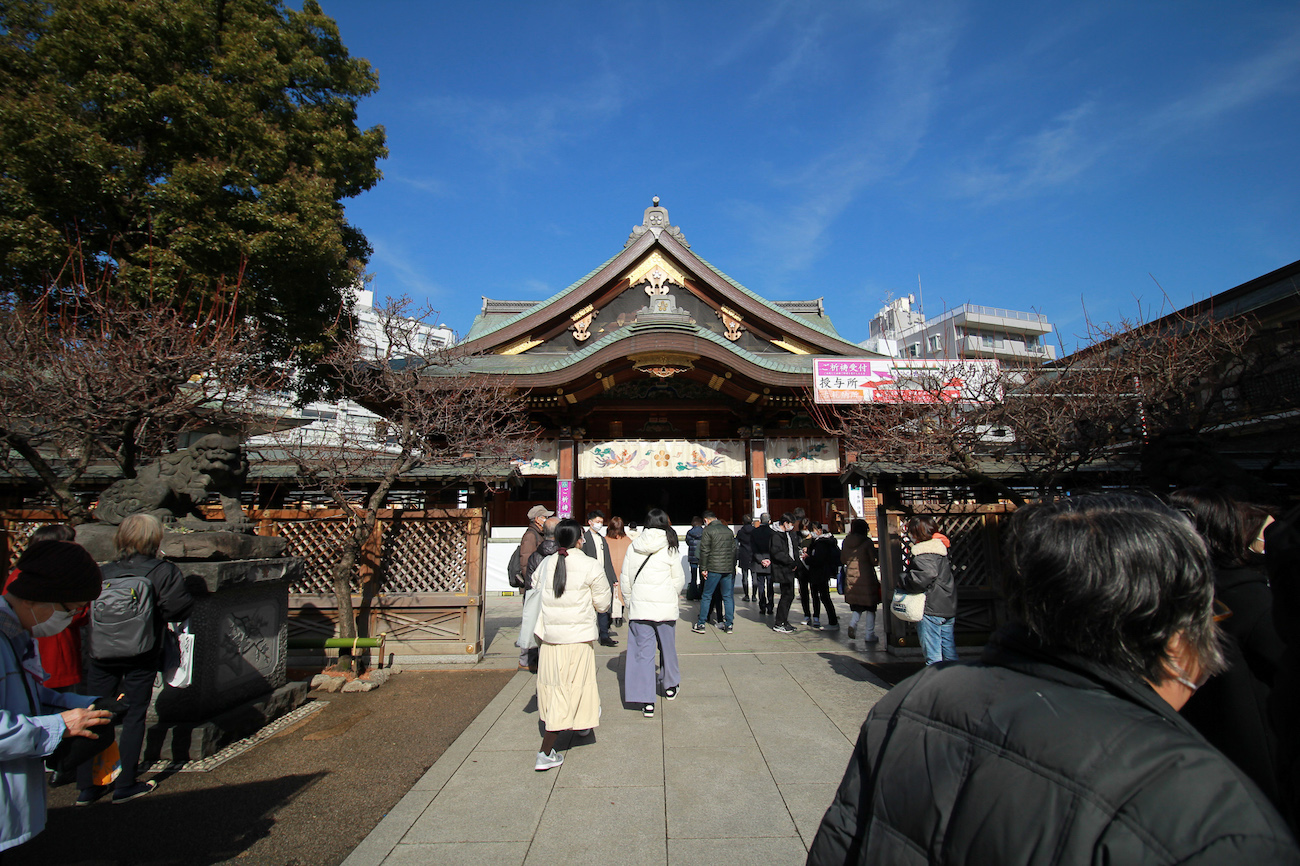 On sunny days, the road approaching the shrine is lined with shops, so I bought some sweet fried buns for 150 yen each (it's impossible to eat just one) and ate them on the temple grounds.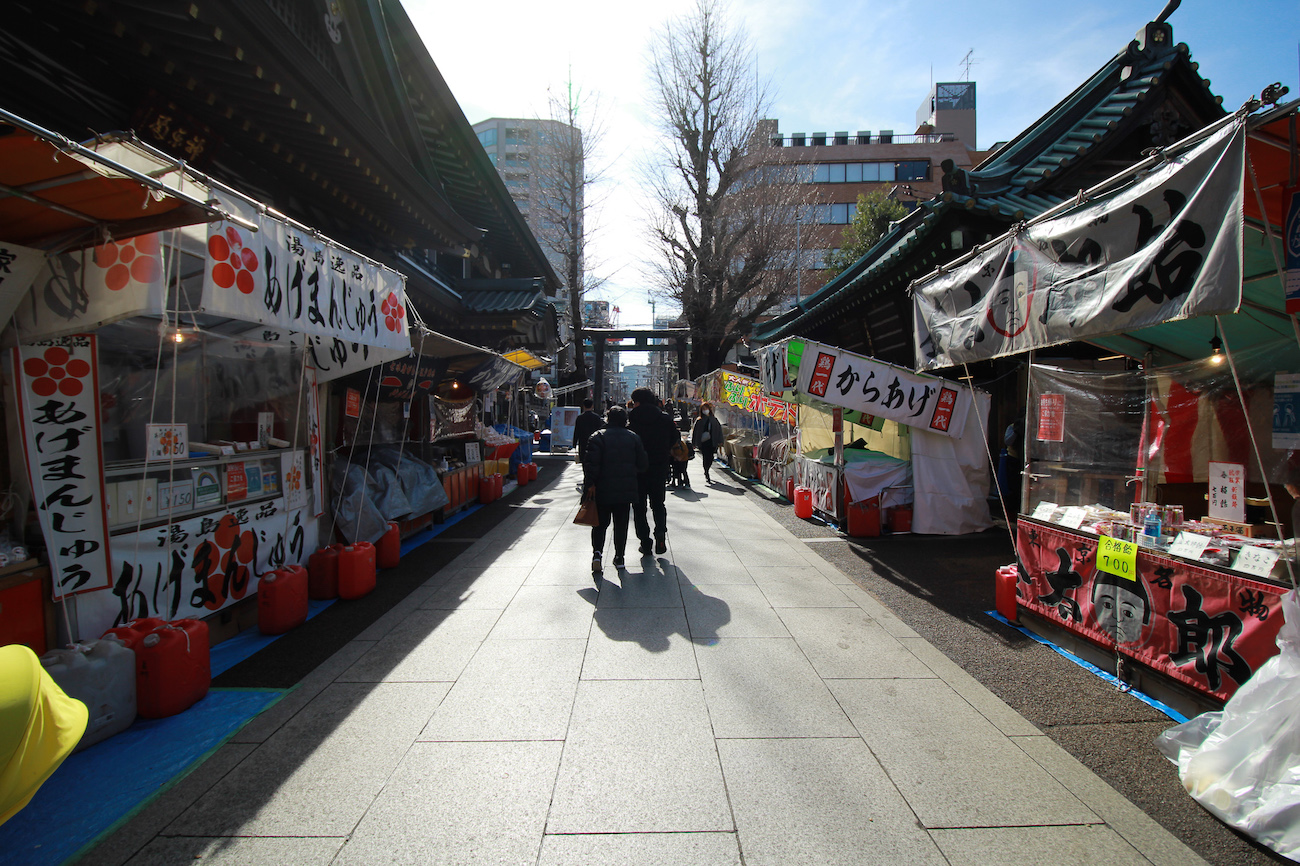 I gave my greetings to the spirit of Michizane and rubbed the metal "rubbing cow" statue.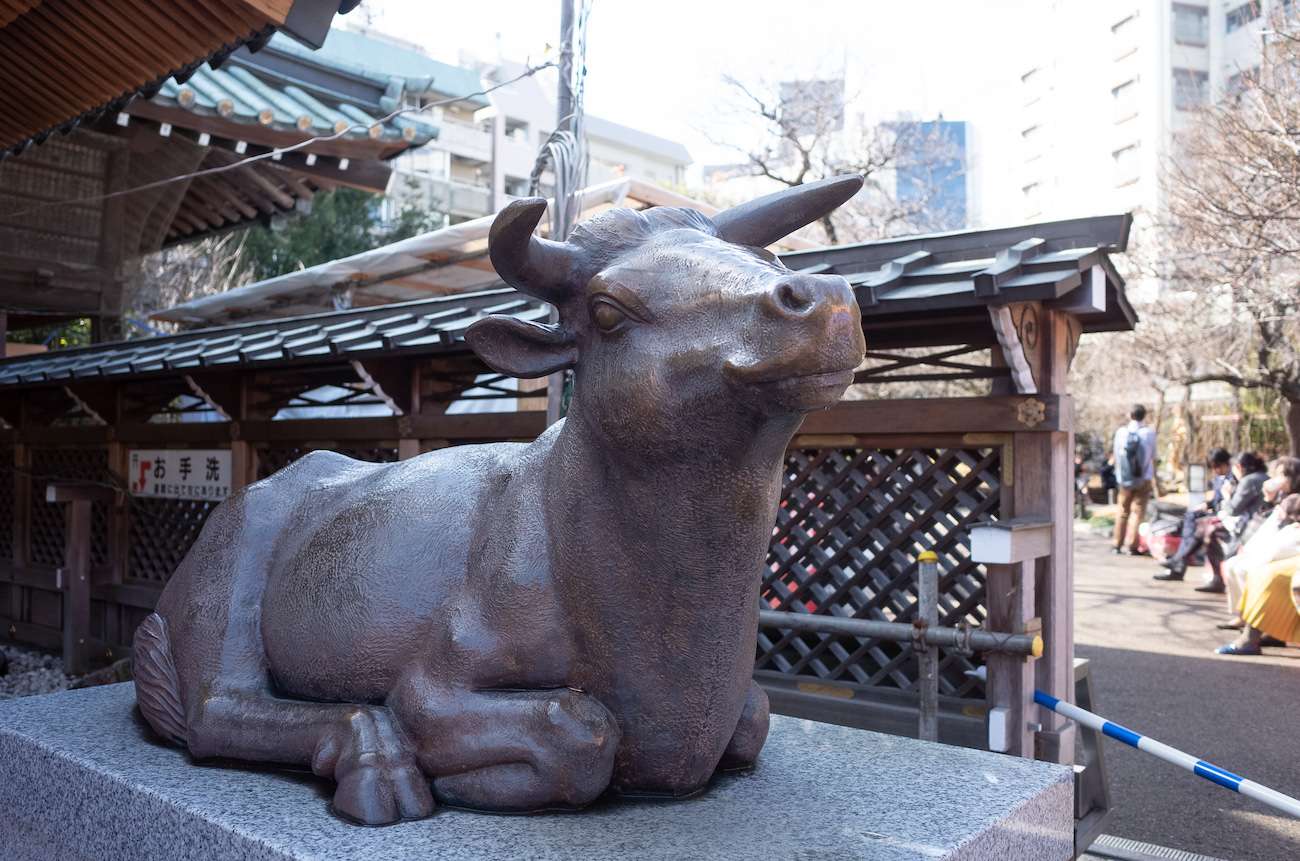 It's also possible to worship at the Sasatsuka Inari Shrine on the same grounds, and at Togakushi Shrine, where the god of sports, Ame no Tajikarao, is enshrined. On your way home, you can purchase daifuku as a souvenir at the nearby confectionary Tsuruse.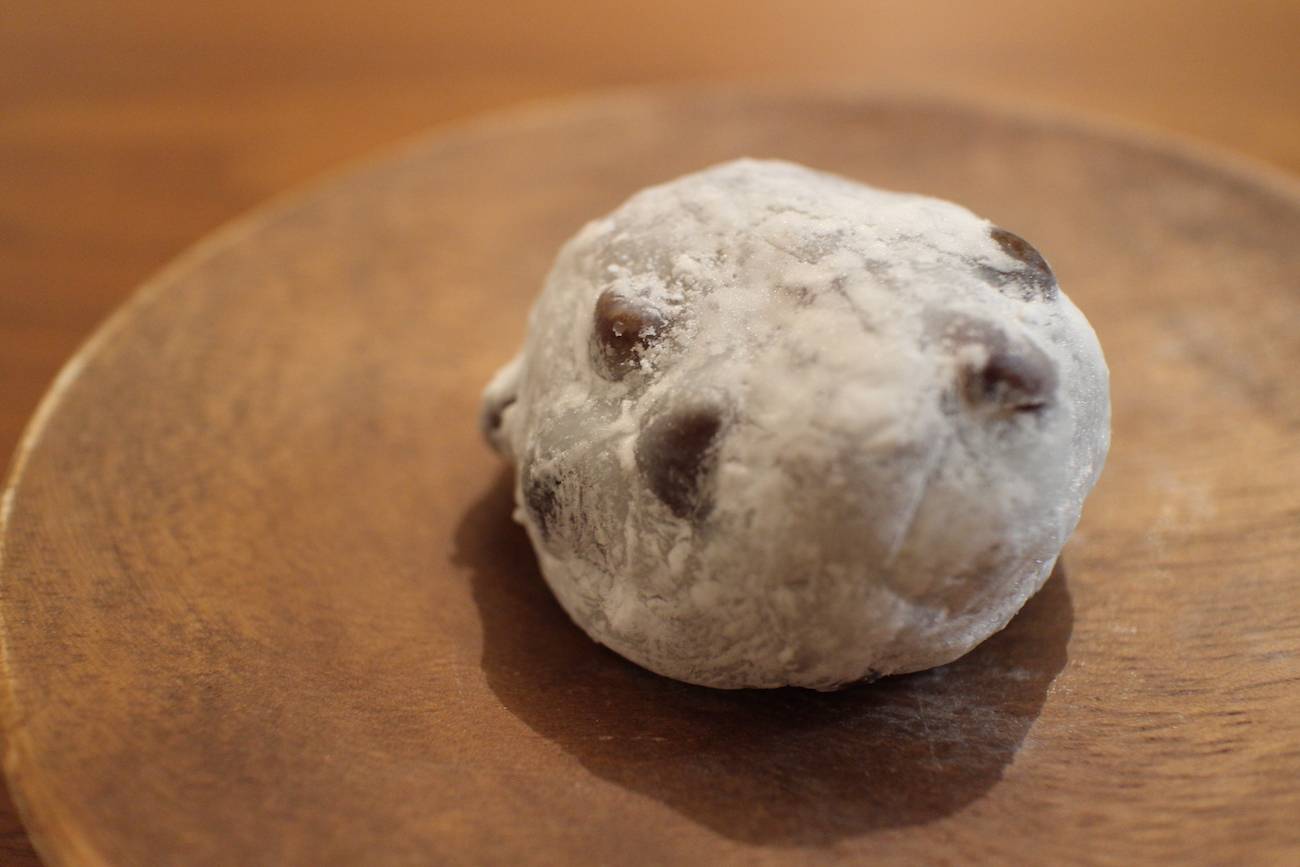 Yushima Tenjin's bullfinch charm is a little unusual; it's shaped like a stick and looks as though it's just sprouted up out of the ground. The cute red face makes it look as if the bullfinch drank some of the gods' sacred sake.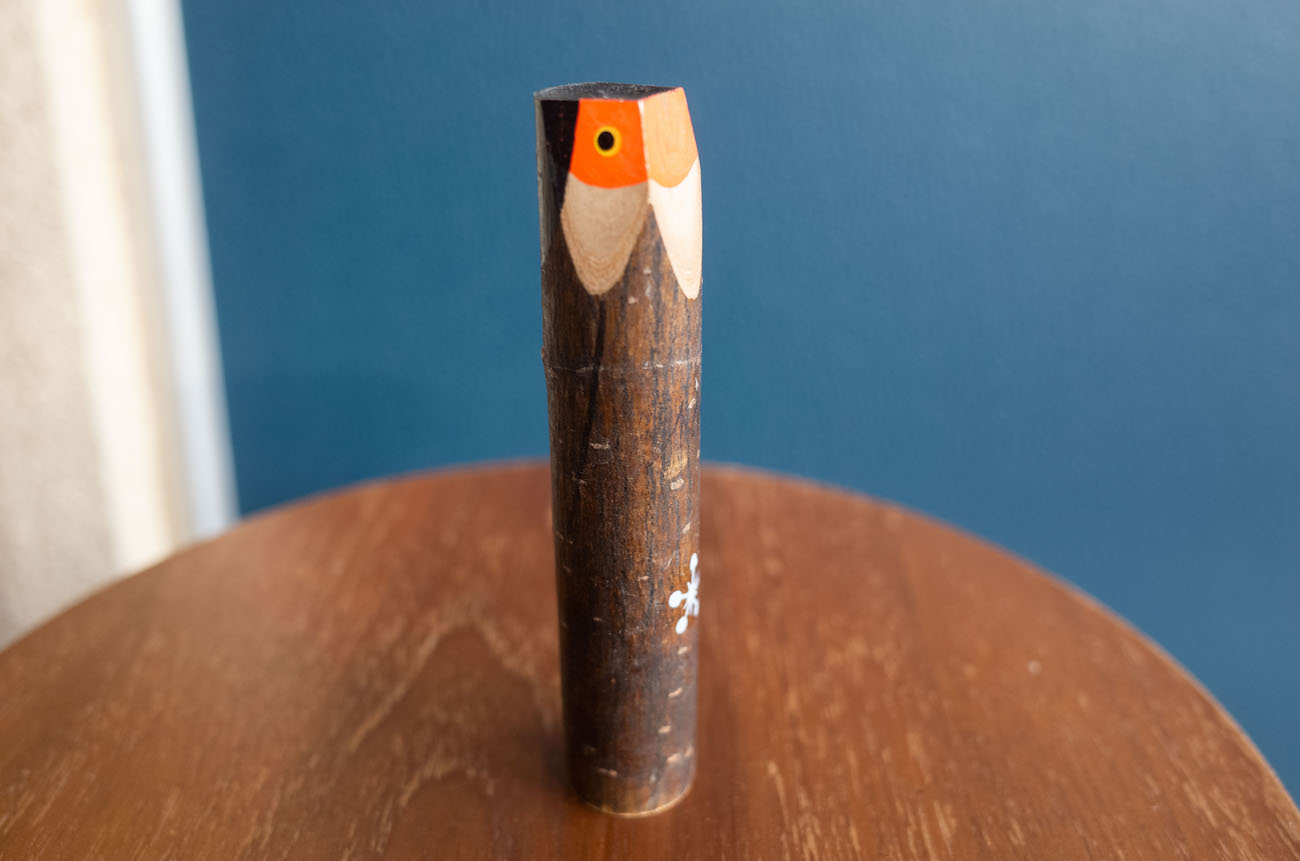 ---
A little-known but spectacular spot
Ushi Tenjin Kitano Shrine
This Tenjin shrine has the best view! It's a small shrine known only to a few, about ten minutes' walk from the LaQua hot spring spa behind Korakuen Station, but visitors can experience the extraordinary here.
The shrine's torii gate is an entrance to another world. Climb the shadowy stairs, and the shrine grounds begin at the top. A figure of a cow that has become white and fluffy from all the fortune slips tied to it will welcome you.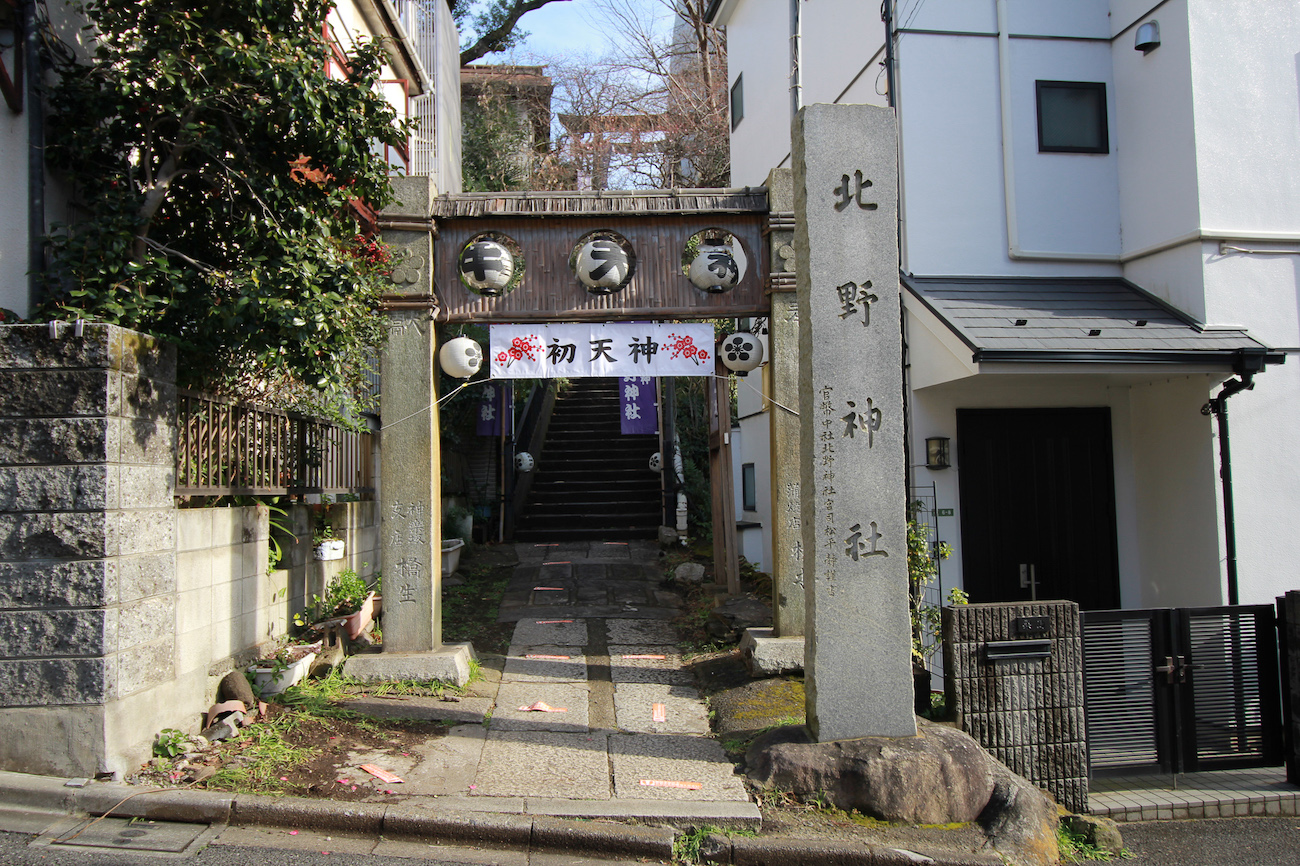 Next to the torii are a pair of guardian dog statues, and inside the torii are two "rubbing cow" statues. What's cute about the cow statues is that they have been rubbed and patted by so many visitors that their horns have been worn away.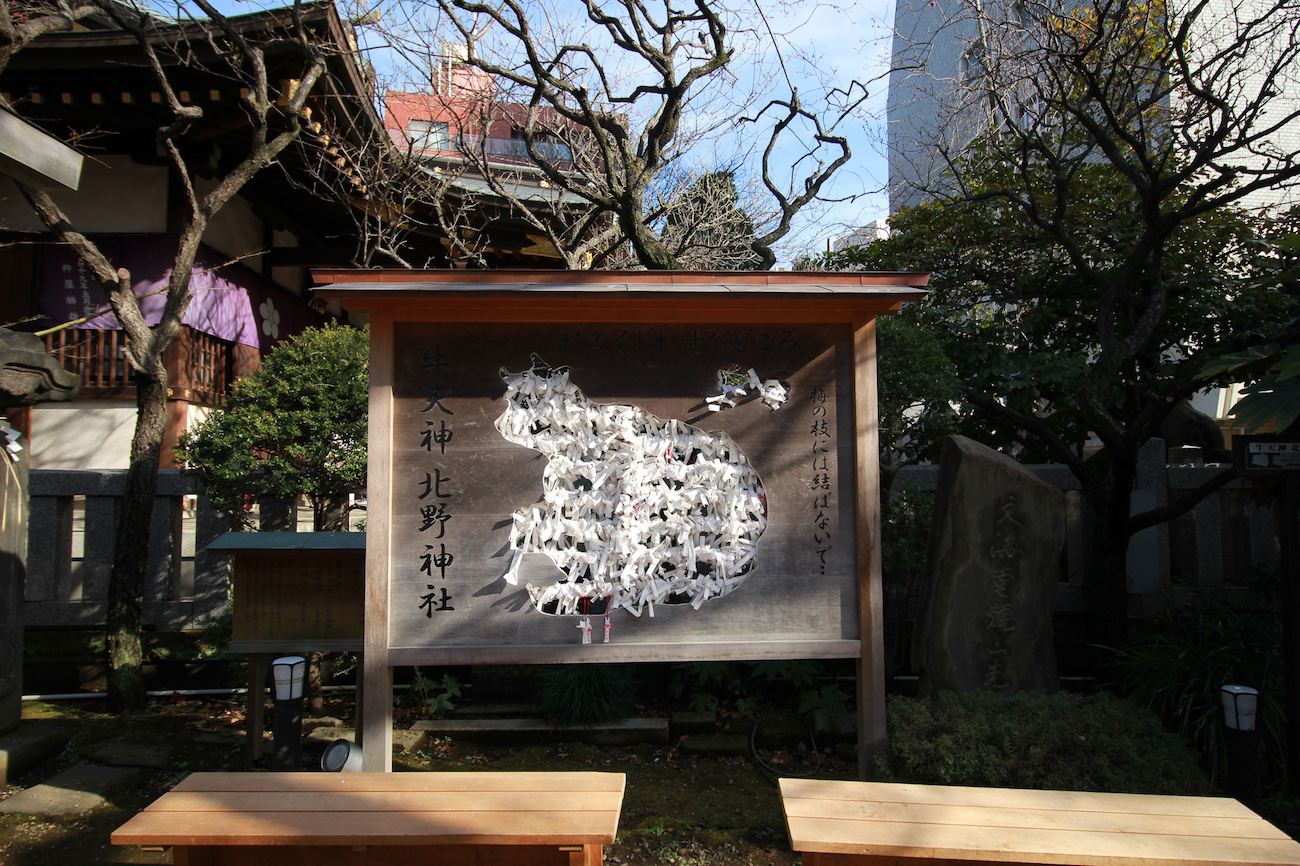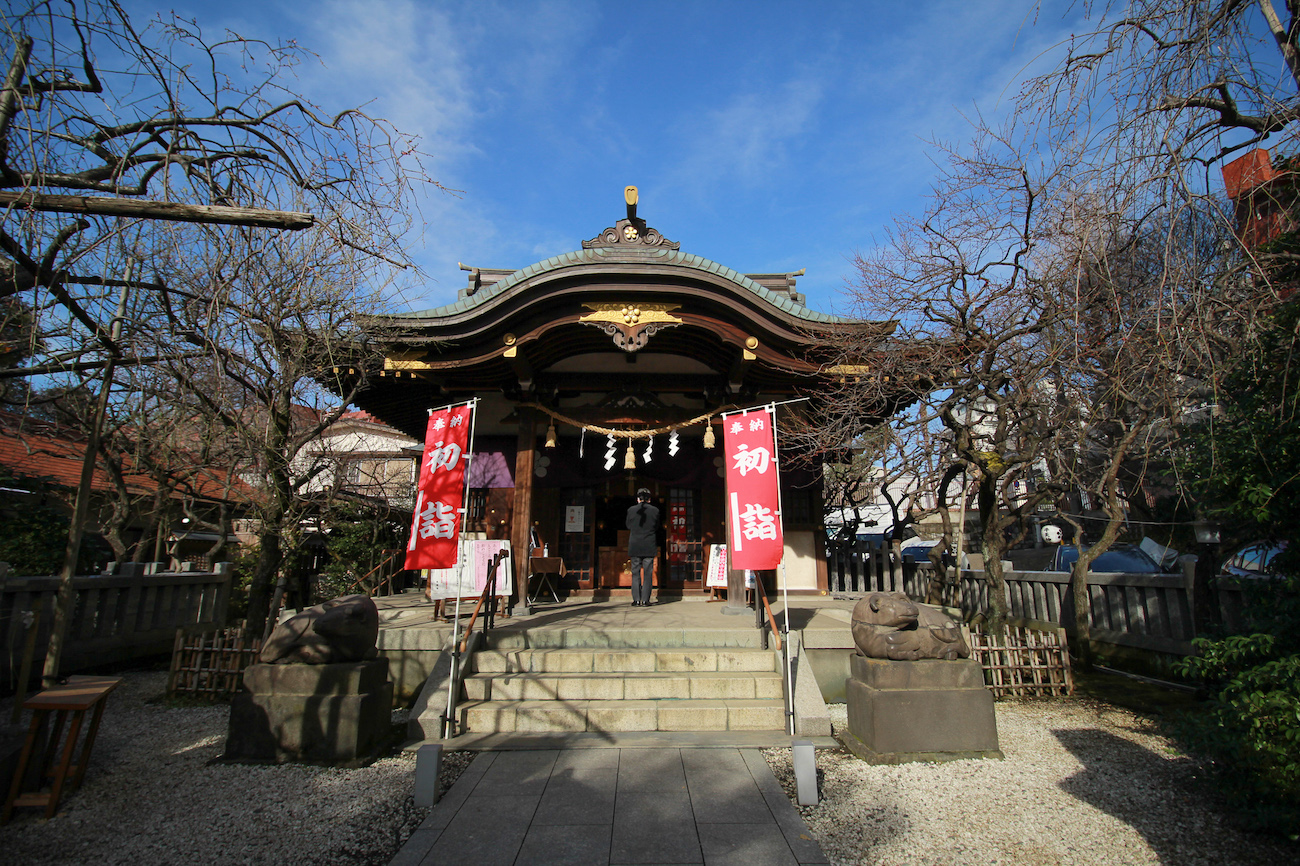 There is a rock on the left side of the grounds, facing the shrine, where shogun Minamoto no Yoritomo sat. To think, the illustrious Yoritomo came here! In fact, Minamoto no Yoritomo built this shrine while on an expedition in eastern Japan, in gratitude for the god of learning's blessing and divine message. Heading back from the shrine, you can see a wonderful view from the top of the stairs of the piercing blue sky and the town below.

The bullfinch from Ushi Tenjin Kitano Shrine comes in a wooden box, wrapped in soft paper. From its chubby appearance, it looks like it will bring good luck.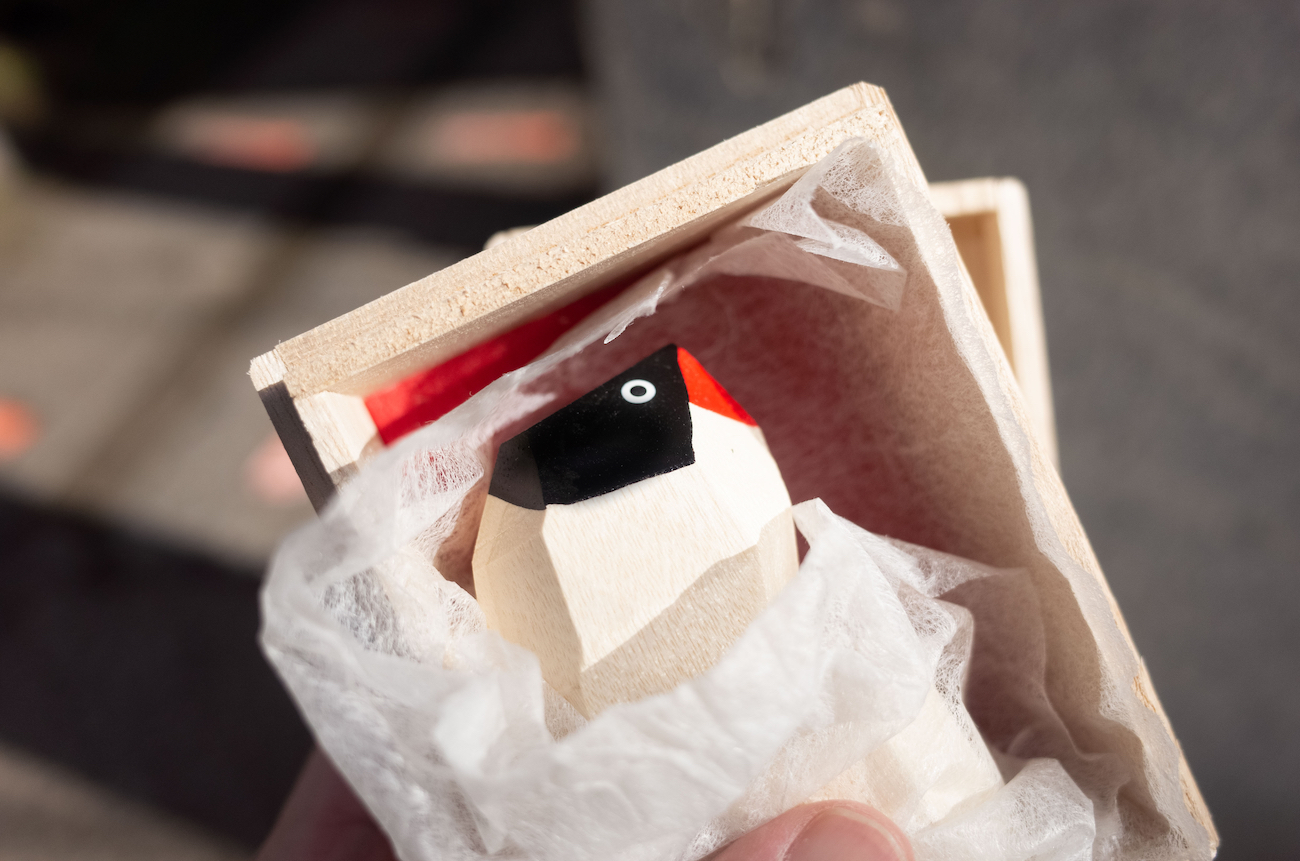 ---
Where the cows and foxes all stare
Hirakawa Tenmangu
The first think I think when I visit Hirakawa Tenmangu is, "So many cows!" There are five "rubbing cow" statues. There is also an Inari shrine on the grounds, so when you pass through the torii fate you will be greeted by both cows and foxes.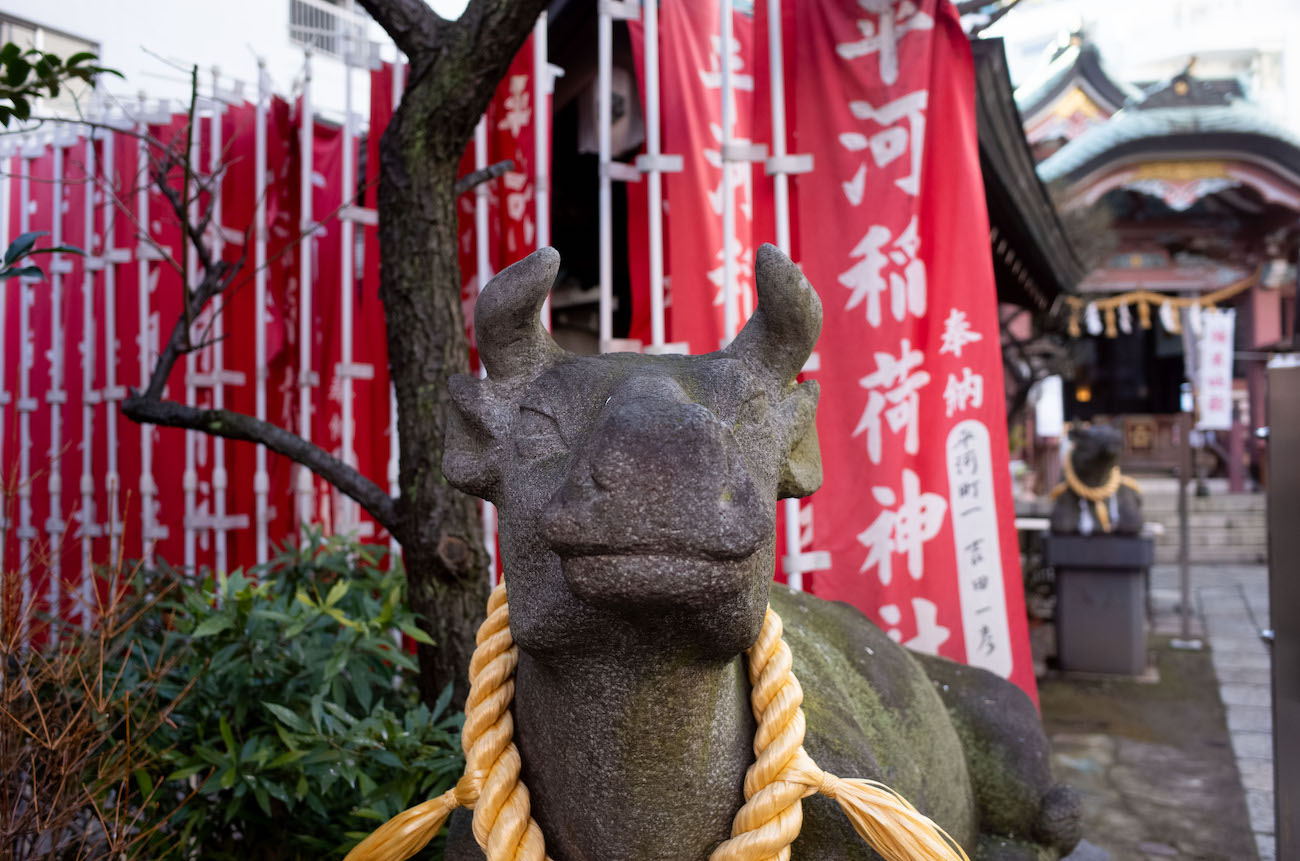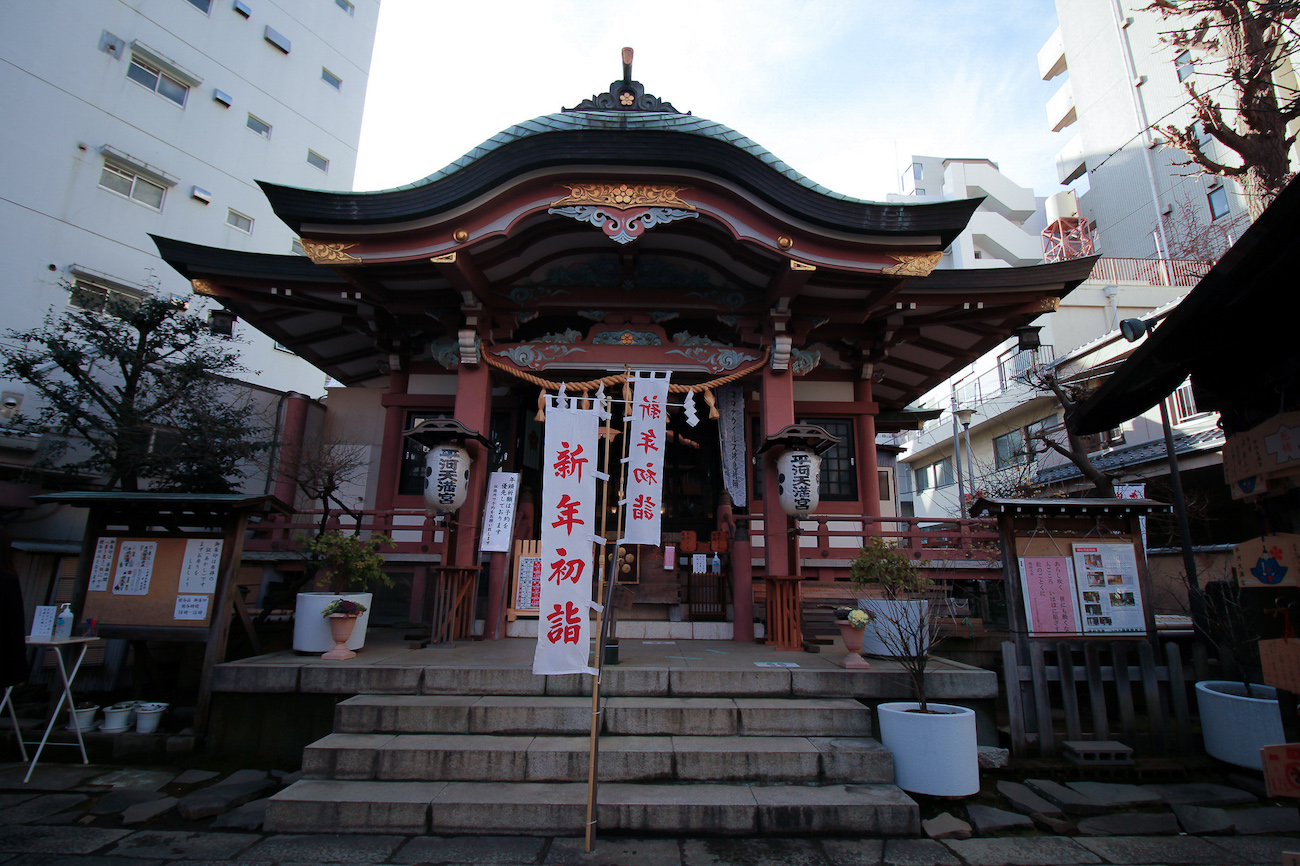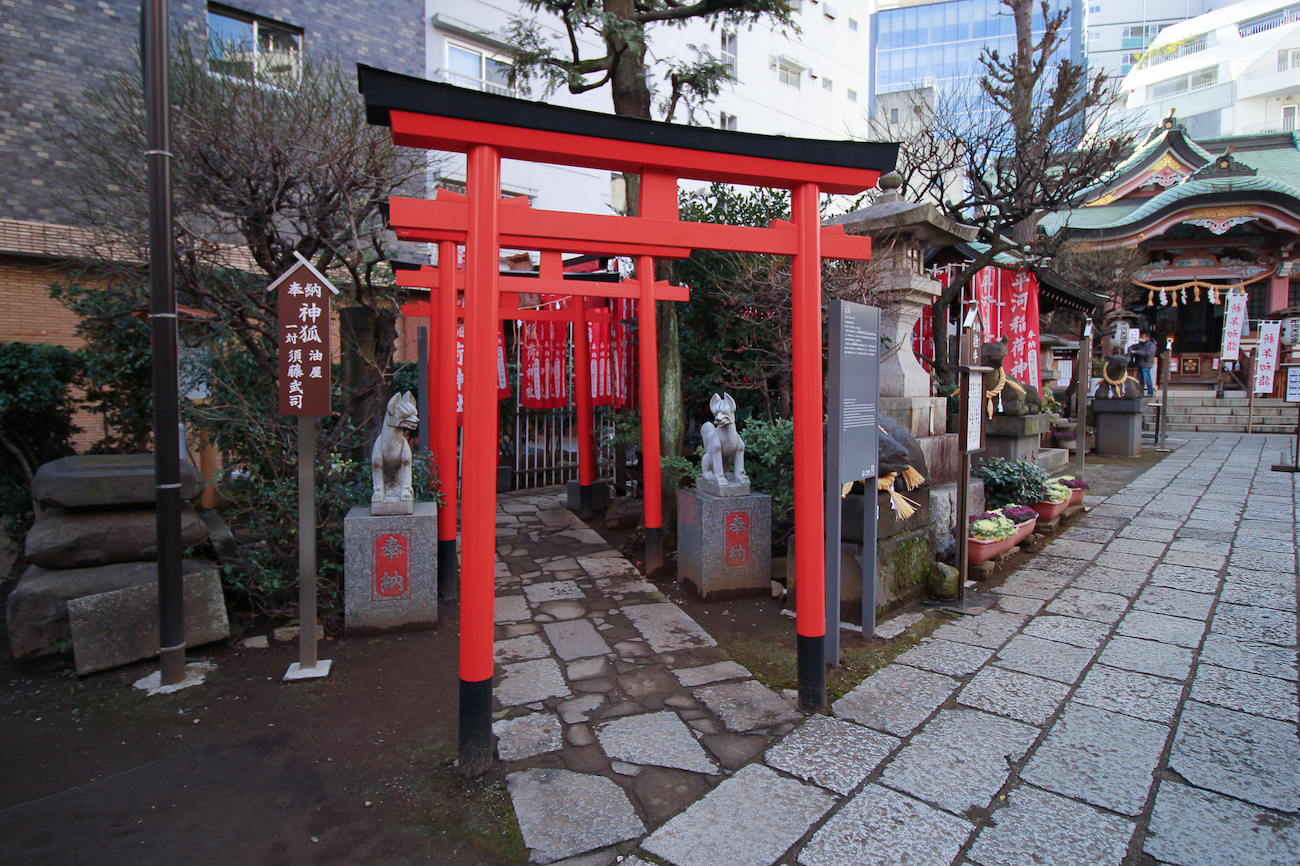 It's easy to think that a shrine in a business district won't have any charm, but since it's surrounded by office buildings that block the sunlight, the shrine will sometimes appear to be covered in blue shadows, or the light reflected on the windows of the buildings will shimmer. A nice aspect of shrines in business districts is that sometimes they have a variety of faces; sometimes they appear submerged in water, and other times they are radiant and sparkling. Hirakawa Tenmangu is precisely this kind of shrine.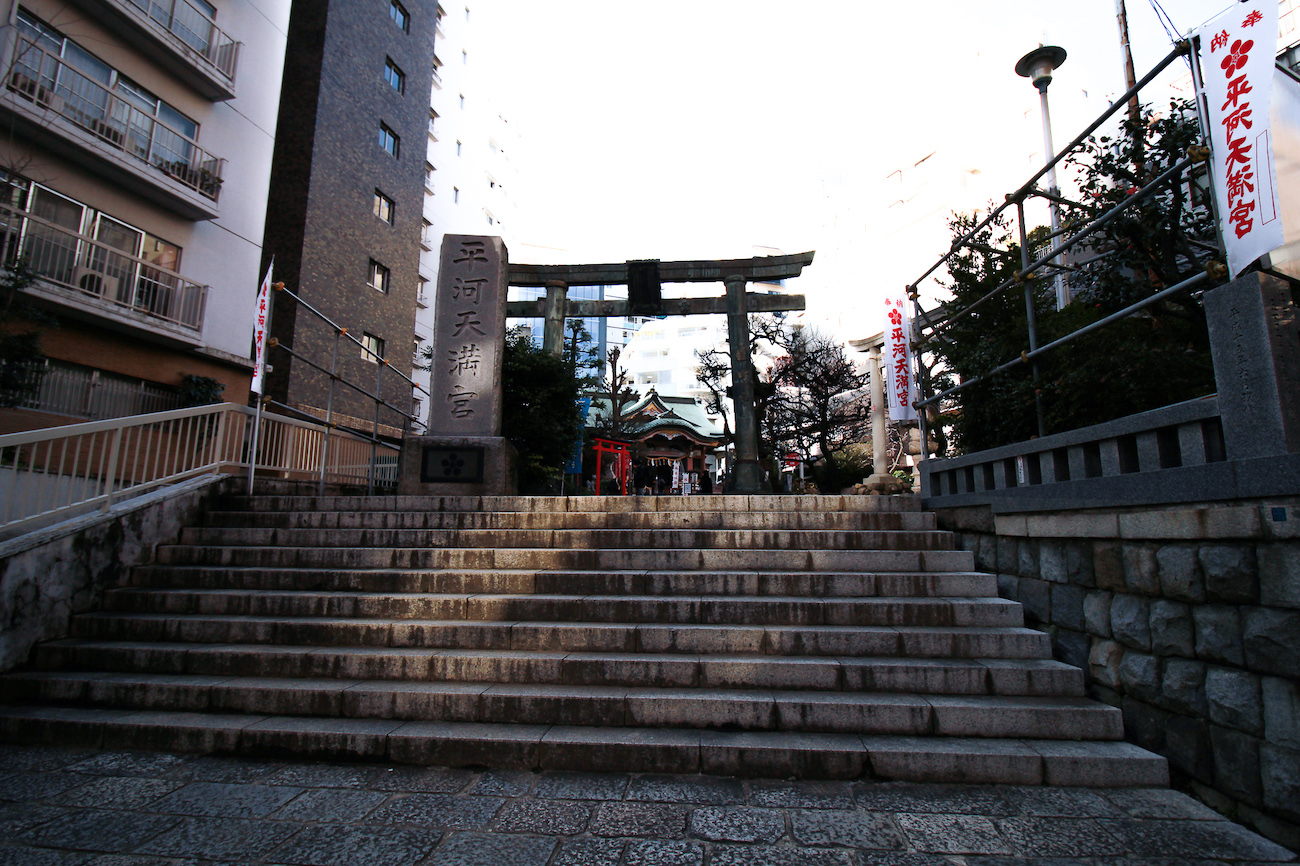 The bullfinches at Hirakawa Tenmangu are decorated with gold paper on their heads. They have big eyes and a face that anyone would think is cute. They are packaged along with rice crackers. It's a bullfinch that you'll want to spend the year with, together at home.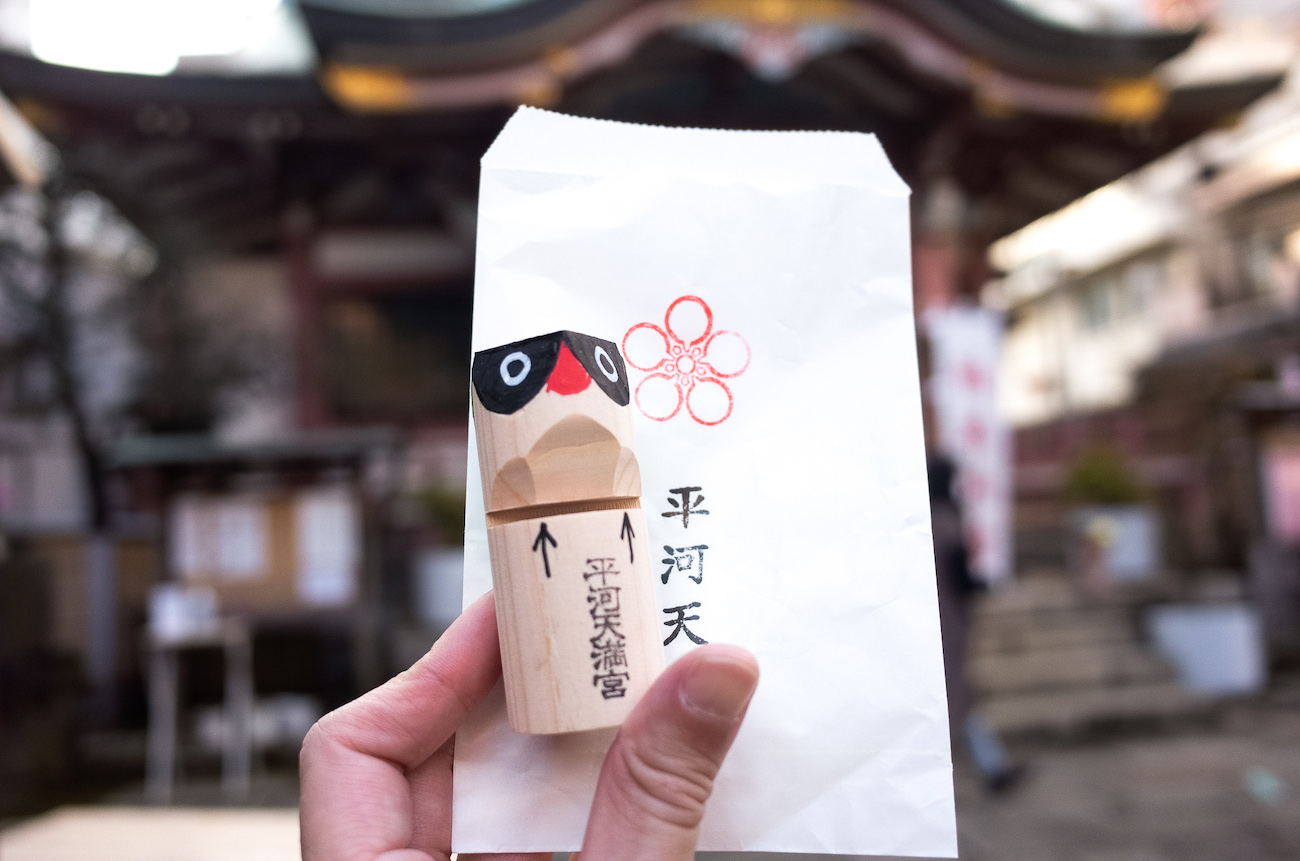 (* Please note that at each shrine, the bullfinch charms will no longer be available once they are all sold.)
---
Text&Photographs by  Ayaha Yaguchi
Writer / editor / illustrator. Born in Osaka. Writes mainly for magazines, the web, and advertisements. Ayaha's areas of expertise are travel, the outdoors, science, and history. She began traveling in 2013 when she became fascinated by natural spots rich in spiritual power, and in 2020 she obtained her first-class boating license. Her current dream is to visit shrines and temples on remote sea islands.
Miki
Trip Planner Japan's Webmaster. love solo travel, photography, history, nature, foods, architecture, handcraft.